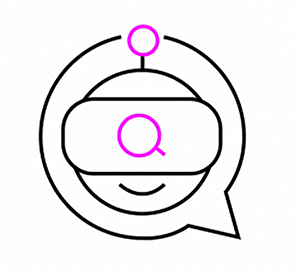 Funnel product suite
Virtual Leasing Agent + AI
Funnel's virtual leasing agent (VLA) gives stretched-thin teams a hand. It's powered by machine learning and natural language processing to seamlessly automate every step of the renter journey from initial inquiry through renewals.
86%
increase in lead-to-lease conversion
Prevent burnout
Camden now gives their leasing staff Sundays off with no productivity loss.
72%
of VLA Tours scheduled after hours
"We have had prospects schedule a tour at 2:00 a.m., because Cortney (VLA) replied. That could never happen before."
Nikki Sarmer
Marketing Technology Specialist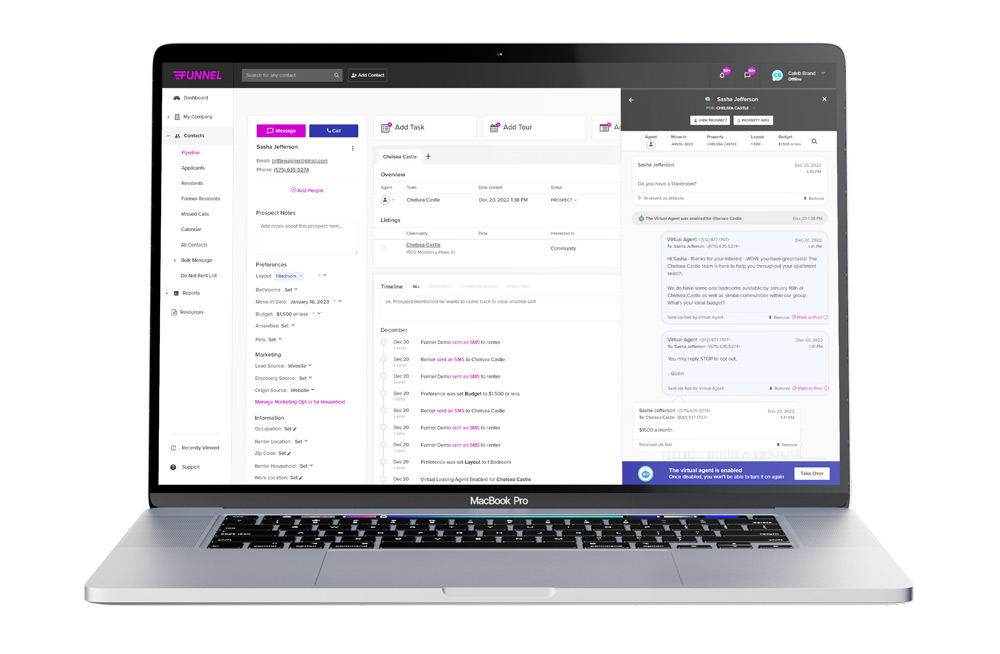 Leasing teams are overwhelmed and renters demand perfection.
Our Virtual Leasing Agent (VLA) = your teams' new BFF. Give your teams a hand, and take 86% of initial inquiries off their plate with our VLA. Our VLA engages, answers, and converts prospects through email, SMS, website chat, and voice in a quick, human-like manner (EVEN outside normal office hours). When it's time to take the conversation a little further, it seamlessly hands the conversation to live agents through customizable preferences. Better still, our VLA is built on our award-winning CRM, parsing answers and recording renter preferences to the guest card throughout the conversation — saving your teams from a manual lift. 
How much can AI

save

your business?
Adjust the sliders to see your

savings

.
Rich conversations
AI so good, your prospects will think it's a human
Conversationally answer the questions renters need to know, all while capturing renter' preferences in the guest card, without lifting a finger. AI doesn't have to feel artificial, that is why Funnel's chatbot also has the "brain" of our Virtual Leasing Agent and can answer complex questions about your community, schedule tours, and present similar units in sister communities, in a natural human-like manner via chat, SMS, email, and voice.
This is not the old automated 'boo-beep-be-bop' robot conversations that renters run away from. This is the modern solution that leads to your prospects asking to meet *your VLA's name* when they arrive for their tour.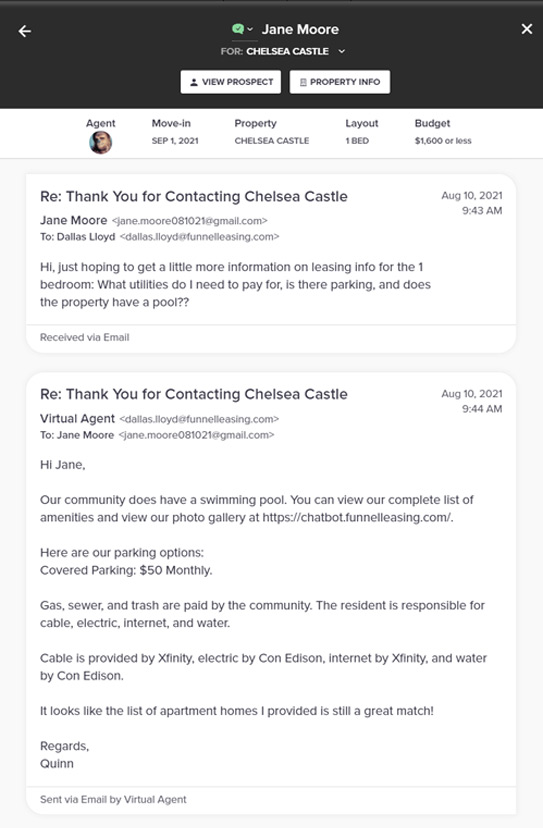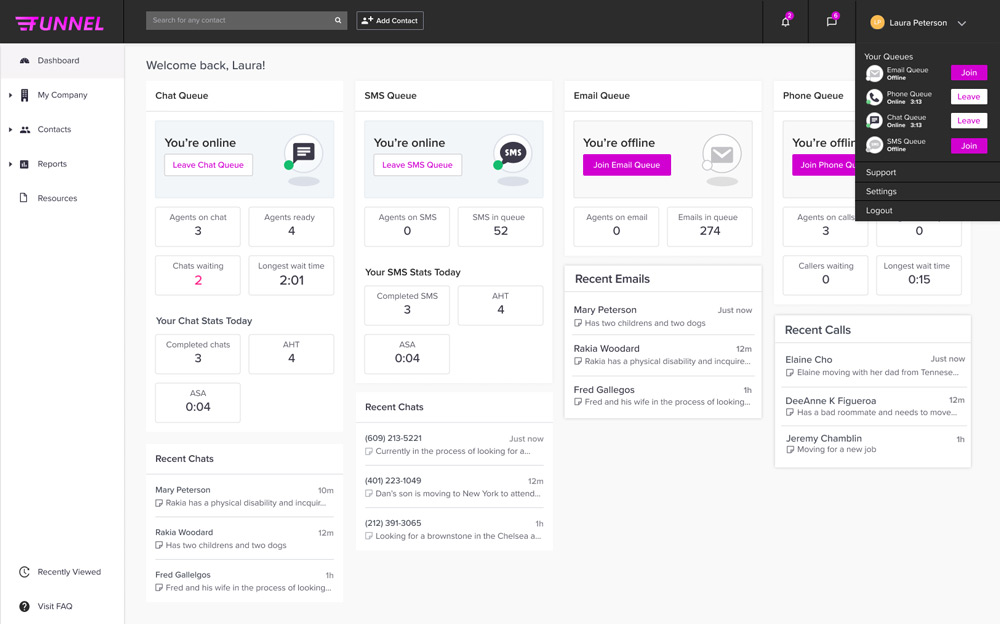 One platform
No more tech stack bloat
No more piecing together multiple platforms to get the chat, email, SMS, and voice AI functionality of your wildest dreams. Our ultimate blend of advanced machine learning and natural language processing allows your tech to answer questions, even multiple questions, on multiple channels, from a single platform. Say goodbye to data or renters falling through integration cracks, giving renters the real-time answers they demand.
Agent handoffs
Seamless handoff and visibility
Give your teams the tools they need to do their job flawlessly. With Funnel, teams know what follow-up to-dos are most important because tasks can be automatically assigned to leasing teams in the CRM, all based on actions taken in VLA conversations. Because every conversation is recorded to prospect records, and easily accessible in real-time through the CRM, leasing teams can step in and keep the conversation going at any moment.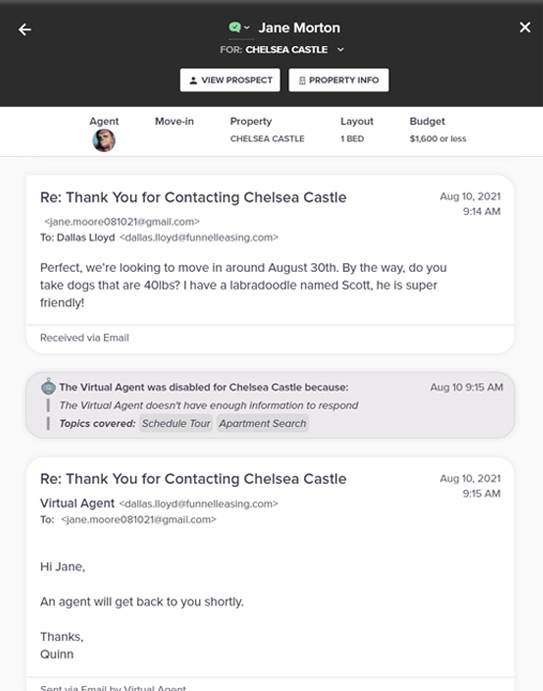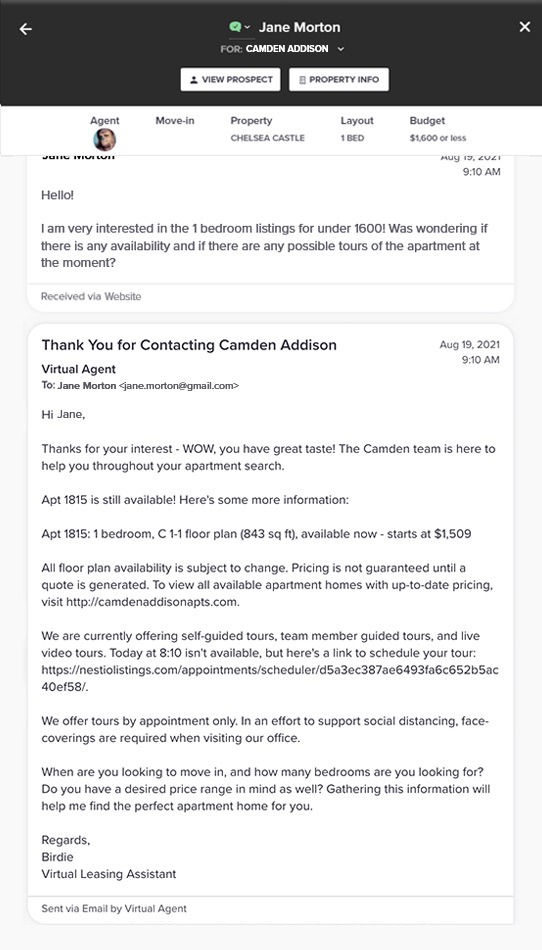 Customizable
Personalized tech
In true partnership, we make sure our tech fits your needs and preferences. You decide the responses, timing, agent handoff triggers, naming the virtual agent (if you'd like), if it should identify as robot or human, language, and so much more.
CRM Integration
Designed to amplify your CRM
Our CRM and VLA were built to work as a team, so nothing is lost in translation. Rich prospect data is captured by the VLA and added to guest cards, to give leasing teams the information they need, instantly and automatically.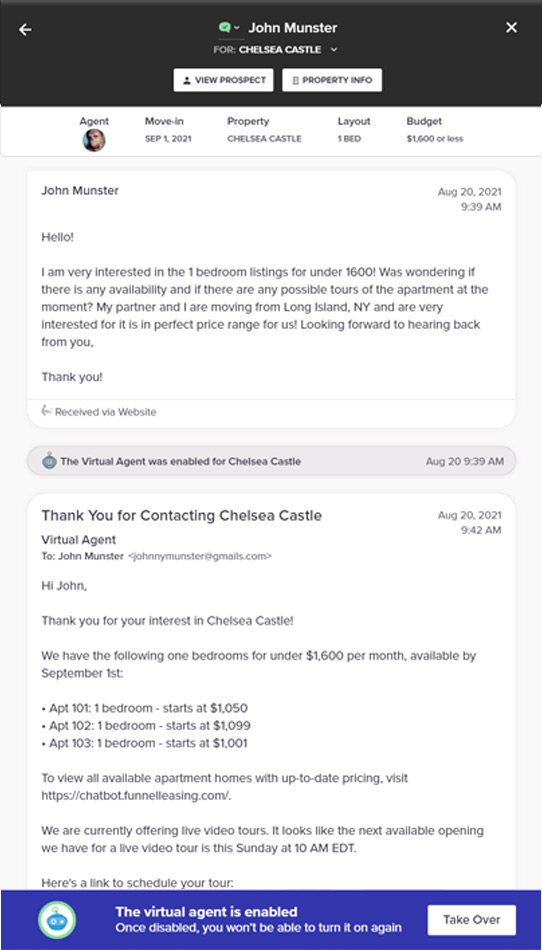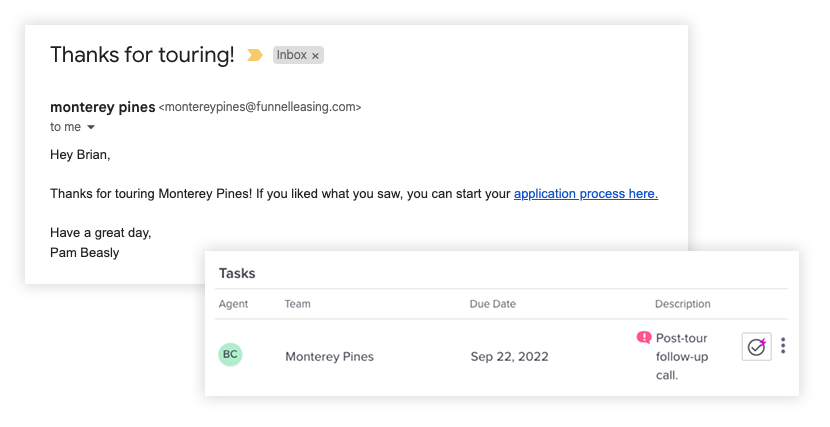 Marketing automation
True marketing automation
Renters demand perfection in every experience. To deliver the five-star apartment shopping experience renters deserve, your team needs marketing automation to take the valuable, but often manual, follow-up off their plate.
Automated cross-selling
Don't watch leads leave your portfolio
You already spent the marketing dollars to bring them in. Help them find the best home in your portfolio that matches their preferences, even across town, without any extra effort from your team. Drive additional revenue that would have fallen through the cracks. Our platform can cross-sell sister properties without a human being involved. Whether it's lack of availability at their initial budget, amenity preferences, or pet policy, the VLA will automatically recommend a nearby community that might be a better fit.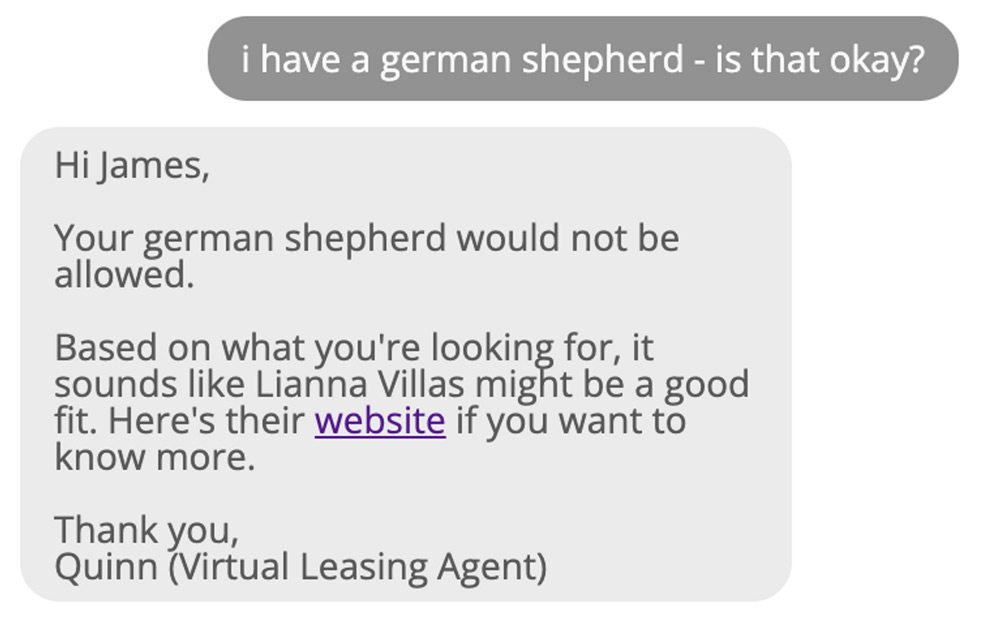 Explore Funnel's

Renter Management Software