AI + Automation designed for multifamily operators
Insulate your business from

staffing issues

and

inconsistency

.
Help burned out employees do more with less.
Reduce spend as a by-product of greater conversion.
Free teams to focus on providing exceptional renter experiences to prospects and current residents.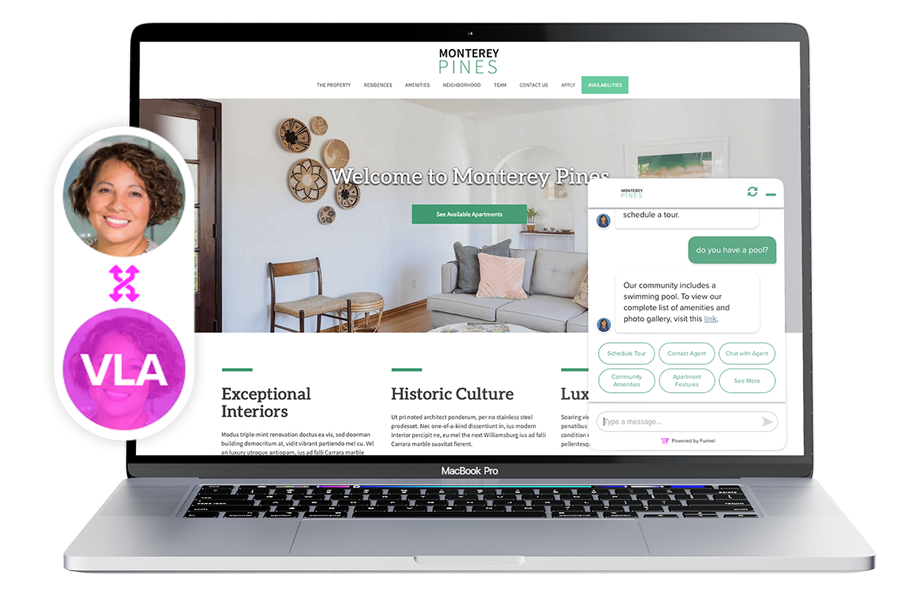 100%
secret shop score – RKW Residential
69%
of tours scheduled via Virtual Leasing Agent (VLA) were booked after hours – Cortland
86%
of initial inquiries handled via automation, AI, or Virtual Leasing Agent.
"AI allowed our teams to work smarter and insulated our business in a turbulent labor market."
Allison Dunavant
VP, Organizational Development
Give your teams a hand
Free renter-facing teams from administrative tasks
Multifamily agents are buried under rote, manual tasks that pull them away from building high value customer relationships with prospective renters and current residents. Teams without AI and automation are a recipe for burnout. In the current labor market, properties simply can't stay staffed, which just means do-more-with-less teams are asked to do even more. Our AI and automation handle 86% of initial inquiries, freeing your team to focus on what matters: renters.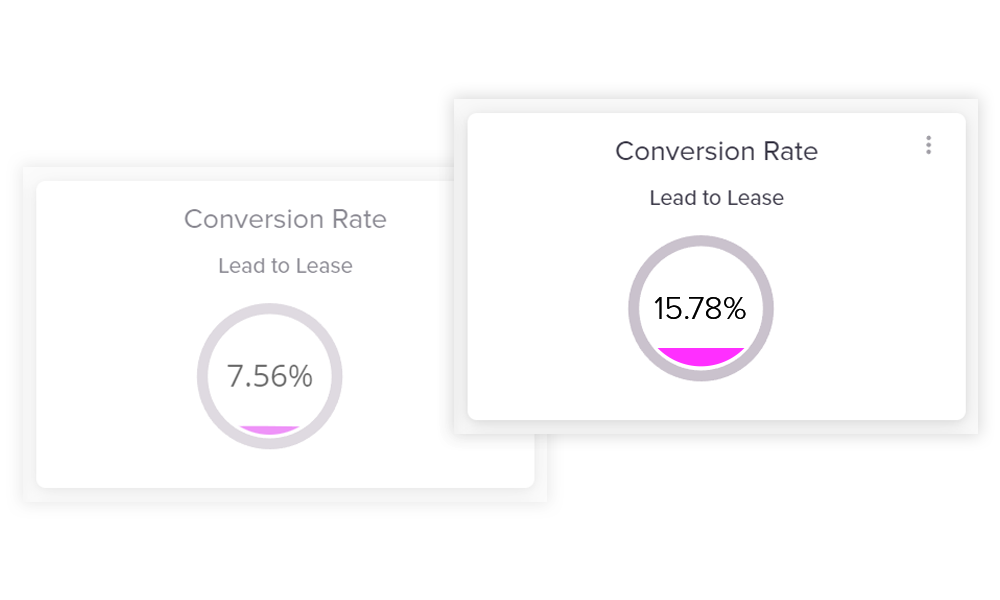 Improved conversions
Shorten your lead-to-lease time
Today's renters demand instant personalized responses. Fast, automated responses from our virtual leasing agent give renters the information they need, when they need it. No more frustrating renter experience, no more overwhelmed leasing teams. More decision-ready prospects, more efficiencies for your teams. All in less time.
Software or human?
AI + automation that don't feel artificial
Our AI solution earned a 100/100 secret shop score by a client, when they posed as a prospective renter inquiring at their communities using our VLA. Meaning we got a perfect score for every lead nurturing requirement, including immediacy, consistency, personalization, and appointment setting. Can we let you in on a secret? Our AI + automation are so good, renters will think they're your 100% human team. Which we love, because in our opinion, smart tech's role is to amplify the impact of your teams and make renters feel at home.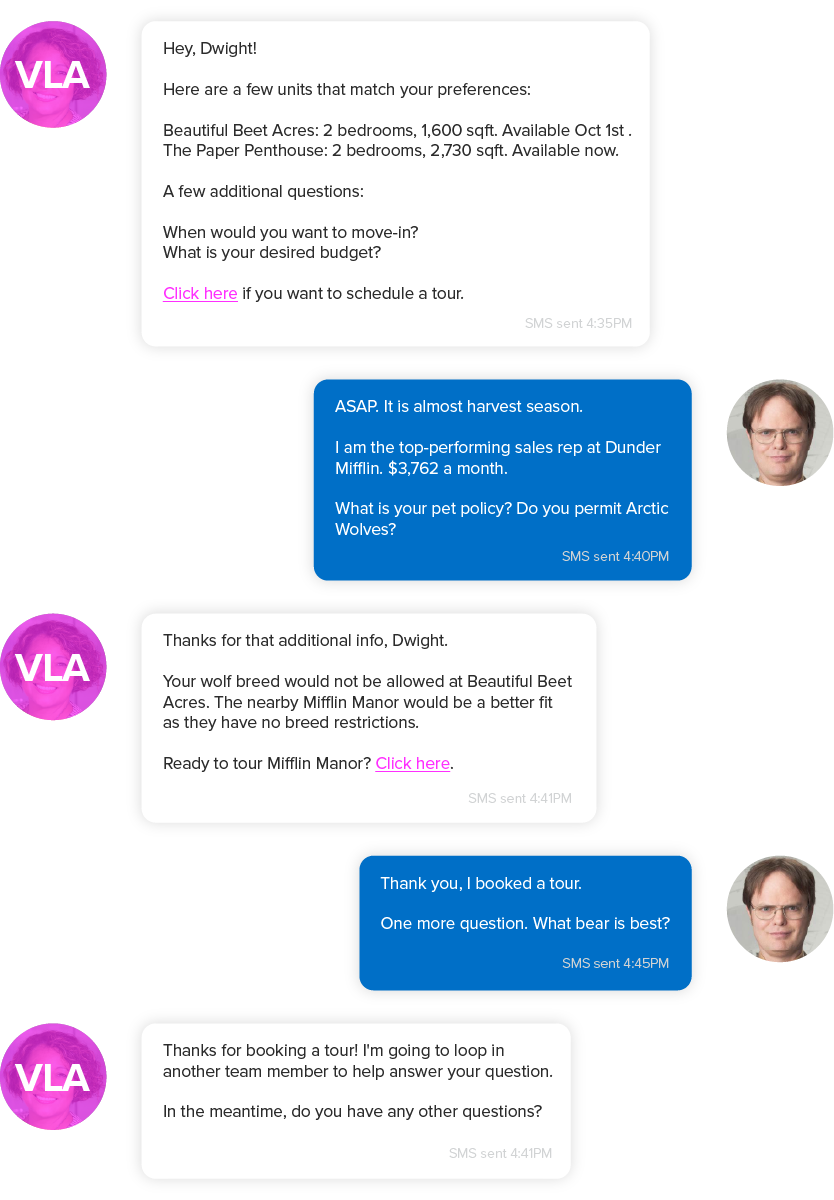 Remove friction for demanding renters
Leasing AI that's there when you need it
When a renter has a question or a process gets stuck, don't stall the renter journey just because your onsite agent is busy or the office is closed. Funnel's omni-channel communication delivers rich conversations, with seamless agent handoffs for customizable renter experiences you control no matter what time.
Delight teams
Happy teams provide exceptional service
It's that simple. If you want to create a great experience for your renter, your teams need to love their jobs. Customers are savvy, and can pick up on nuances in mood and behavior that will put them on edge and drive them to rent elsewhere. AI and automation free your leasing teams from the time-consuming back office tasks that take them away from delighting renters from initial inquiry, to move-in through renewals.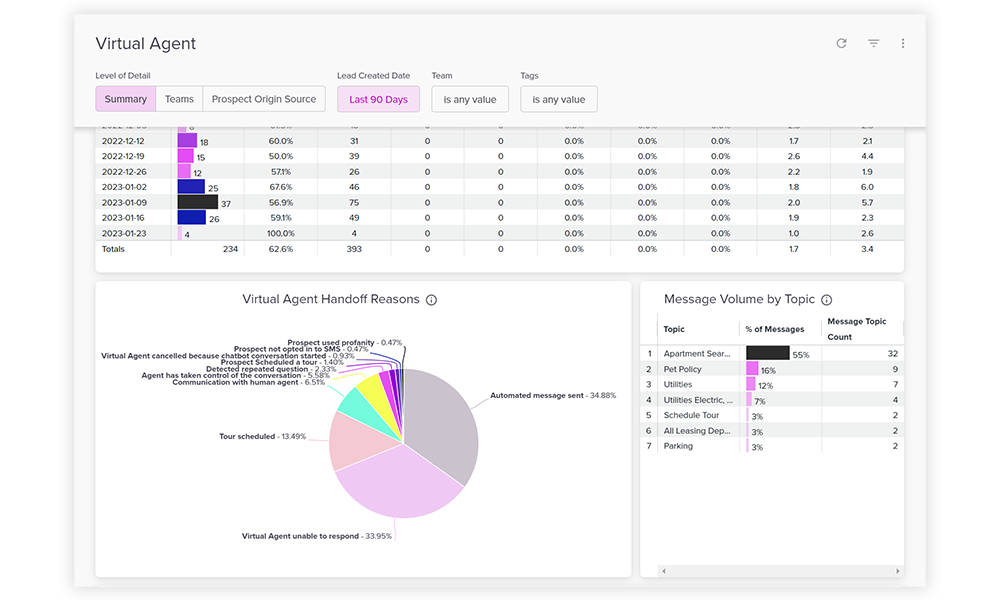 Intelligent reporting
Actionable insights, lead business efficiencies.
Use our real-time reporting to identify and eliminate bottlenecks, reduce costs, improve performance and predictively staff. Skip the guessing games of when your community's busiest times are, use data to identify them, and staff to provide the best experience for your team (i.e. not overwhelmed) and your renters (i.e. not underserved). Call us nerds, but we are all heart-eyed-emojis for actionable data and smart tech creating business efficiencies at scale.
More ways we can

help

you
Funnel's AI + marketing automations increase Cortland's tours and provide a connected renter journey
Read more
How We Help
Centralization + role specialization
Learn more
Funnel's AI, automation, and CRM insulate LCOR from macroeconomic shifts
Read more