Announcing H.O.M.E. : A Letter From Our CEO
Funnel Team, Friends, Family + Network,
We took a powerful step today as a company, and as individuals and leaders in making the world a better place. I felt compelled to share with all of you a bit more about why we are undertaking this journey, my own personal connection to it, and how we hope you'll join us to help create opportunity through housing.

Summer 2020 was memorable for many reasons. While our nation was reckoning with longstanding racial inequities, and the world was still coming to terms with the fact that lockdown would last much longer than originally anticipated, several life-changing events occurred in my personal universe.
First, my wife and I welcomed our fifth child into the world. A beautiful, and miraculously healthy, baby girl named Pearl.
Second, I was asked to fill the unfillable shoes of my mentor, Caren Maio, as the CEO of Funnel (formerly known as Nestio).
Among an ocean of conflicting emotions, the sentiment I found myself feeling most strongly was that of profound responsibility. Responsibility to my family. Responsibility to the company and its employees. But most of all, a responsibility to make a positive impact beyond traditional business metrics.
Quite fortuitously, that summer, I also happened to be studying the business models of companies like TOMS, Lemonade Insurance and Salesforce. These innovative and honorable businesses proved that it is possible to do well in the traditional business sense, and to do good beyond what our shareholders and partners expected.
It was in this state of mind that late one sleepless night (with Pearl) the concept of H.O.M.E. was created.
The team at Funnel had been working on our "Online Leasing" product for some time, and our launch was quickly approaching. While the common practice for multifamily vendors is to mark up hard costs and pocket 100% of the margin from providing application, screening and lease signing services to new apartment residents, an opportunity to do things differently was presented:
What if we took $1 for every lease applicant from our margin and gave it back to less fortunate would-be renters?
The next morning I immediately called my partner in crime, and our Chief Product Officer, Ben Rubin. I let him know I had an idea that would change our company and the industry for good. As often happens, Ben was kind enough to patiently hear me out and turn a good idea into a great one.
The summer of 2020 was also a time for deep reflection on race in America, and around the world. Ben brought my head out of the conceptual clouds and firmly back to the reality outside of our windows. Our employees, the majority of whom are white, were all grappling with the societal self-evaluation that the moment demanded. Ben similarly challenged me to find a way to bridge our impact with the historic moment.
I studied the role housing has played in racial inequalities, and found that not only have biased housing systems been one of the most damaging systemic inhibitors of financial growth among marginalized groups, but that the problem persists to this day (as found in multiple studies, including data from the Urban Institute).
Finally, with some creativity to name the program from product manager extraordinaire Lianna O'Brien, H.O.M.E., a non-profit 501(c)3, was born: Housing Opportunity Made Equal.
Our mission statement:
Funnel is dedicated to fair housing for all. We created H.O.M.E. to advance our commitment of building responsible technology and supporting causes that provide disadvantaged renters with access to safe and healthy housing. Through our actions, we strive to combat the systemic oppression prevalent throughout the leasing process that results in limited housing access for marginalized home seekers. Every new lease signed and completed using our online leasing solution generates a $1 donation on behalf of H.O.M.E. that is used toward ending housing discrimination and increasing economic opportunity through housing.
Today, nearly 53 years from the signing of the Fair Housing Act, April 11, 1968, we are announcing this commitment to the world (our press release is here). Beyond the financial contributions we are committed to providing going forward, I am further delighted by the proactive steps our engineering team has taken to limit bias and disqualifying conditions in our approach to artificial intelligence and the rental process that we can affect directly. We hope to bring greater education to our larger community on the importance of fair housing and the impact it has on daily life, safety, education and prosperity. But we know we cannot do it alone. I would be honored to continue learning from, and listening to, other leaders who are working to fight housing discrimination and dedicated to improve fair housing for all.
Many thanks to each and every one of you for helping us advance this cause today, and in the future. I know that with your leadership and support, we will serve as the model in Proptech for both doing well as a business and doing good for the world. And most importantly, together we can make a meaningful difference in the lives of underserved renters who need the power of a home to better their lives and those of their families.
All the best,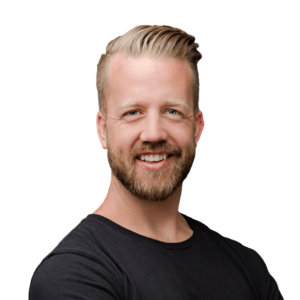 Tyler Christiansen
CEO of Funnel