FINSMES — Funnel Raises $36M in Series B Funding
Funnel Leasing, a Tampa, FL-based renter-centric leasing platform provider, raised $36M in Series B funding.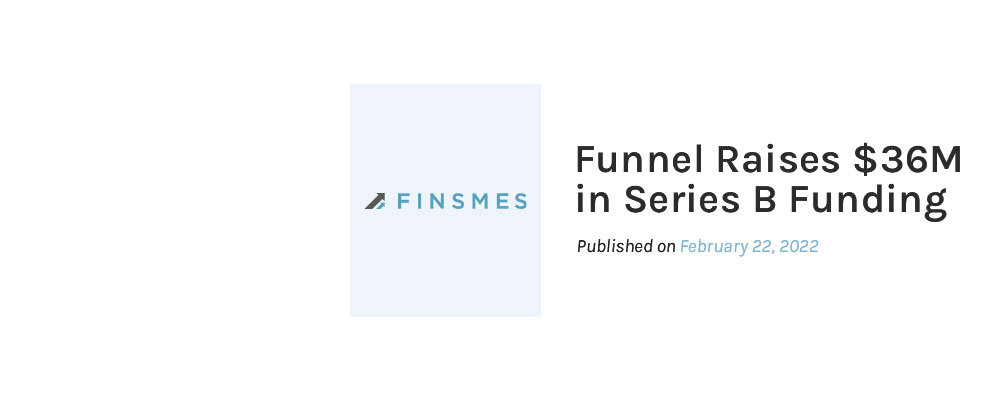 Funnel Leasing, a Tampa, FL-based renter-centric leasing platform provider, raised $36M in Series B funding.
The round was led by RET Ventures with participation from Funnel investor, Camden Property Trust, Morgan Properties, Wilshire Lane Capital, Trinity Ventures, Camber Creek, MAA, Essex and Cortland.
The company intends to use the funds to expand reach in the enterprise and mid-markets of property owners and management companies.
Led by CEO Tyler Christiansen, Funnel Leasing provides renter-centric solutions featuring leasing and communication tools which place a renter — not a property — at the center of every interaction. The software aims to improve workstream operations across portfolio by centralizing operations, optimizing marketing budgets and operational costs by staffing intelligently.
Funnel Leasing's current products include:
Engage, a robust lead management solution and CRM with automations for mundane tasks and omni-channel communications to manage the entire renter journey.
Amplify, a natural language virtual leasing agent that works across SMS, email and chat.
Convert, a suite of online leasing tools, including instant income verification through the industry's only FinTech integration.
Signal, a syndication tool for major third-party ILS' with unique integrations to ensure listings are correct and richer data is captured through inquiries.
Coming soon: a suite of products focused on renter onboarding, resident portal and retention.
It is now used by 17 of the NMHC Top 50, offering a range of leasing and communications tools to enable more efficient leasing through centralization and automation.
To learn more about Renter Management Software and what this means for renters and property management companies, book a demo here.
——
About Funnel
Funnel's renter-centric solutions revolutionize the antiquated process of finding a home into an enjoyable experience. We believe all renters deserve a seamless, simple and personalized journey. We provide leasing and communication tools that are intuitive and obliterate repetitive tasks — driving more efficient leasing. Join us as we help leading property management teams create tomorrow's rental experience at funnelleasing.com.
Media Contact
Alex Howe, Vice President of Marketing
alex.howe@funnelleasing.com