FinLedger — Funnel raises $36M Series B to eliminate W-2s and pay stubs from the rental process
Funnel Leasing, a renter-centric leasing platform for multi-family operators, announced the completion of a $36.5 million Series B raise led by RET Ventures, a PropTech-focused VC firm and existing Funnel investor.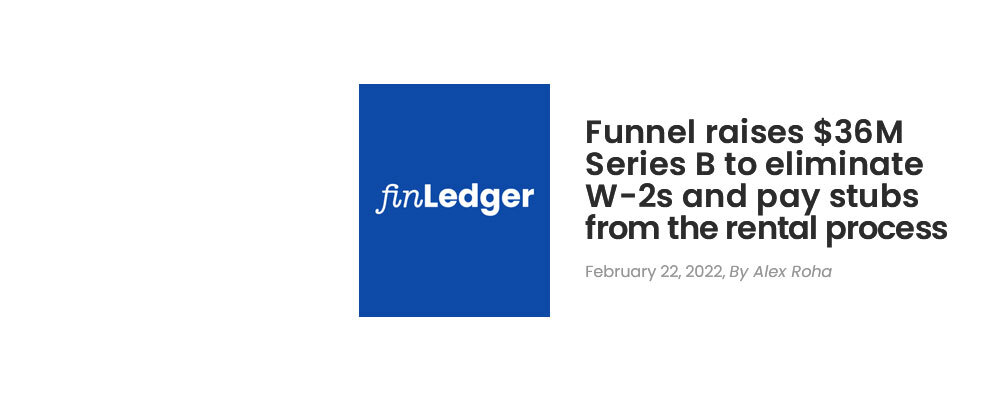 Other participants in the Tuesday round included Camden Property Trust and Morgan Properties, two of the country's largest owners of multifamily properties, as well as Wilshire Lane Capital, Trinity Ventures and Camber Creek.
According to Funnel, the latest round of funding will expand the platform's current reach to mid-markets of property owners and management companies for its centralized leasing tech.
Originally founded as an apartment marketing platform in 2010, Funnel expanded its mandate significantly in 2018. The Florida-based proptech operates a marketing, communications and leasing platform that aims to automate property teams tech stacks for renters convenience.
Its current products include a lead management solution and CRM to oversee a renter's entire journey, a virtual leasing agent that works across SMS, email and chat and a syndication tool for major third-party ILS' to capture renter data.
Its "Convert" product also offers a suite of online leasing tools, including instant income verification that allows applicants to link their financial accounts to one platform so renters aren't searching for W2s or paystubs. Funnel claims its product can have renters completing applications in under 10 minutes with its e-sign capabilities.
"For owners and operators on legacy Property Management Systems (PMS) feeling stuck between a bunch of disconnected point solutions, or giving up their trusted accounting systems, we have great news and a better approach," said Tyler Christiansen, CEO of Funnel.
"For owners and operators on legacy Property Management Systems (PMS) feeling stuck between a bunch of disconnected point solutions, or giving up their trusted accounting systems, we have great news and a better approach." – Tyler Christiansen, CEO of Funnel
According to Christiansen, the latest round of funding will support Funnel's development of new tools as it works towards the market's coveted "end-to-end" renter journey, adding renter onboarding and resident portal functionalities.
Coming off of its $14 million Series A in 2020, Funnel saw explosive growth the following year. In 2021, Funnel experienced 115% YOY revenue growth and doubled its employee headcount from 40 to 80 team members.
The company also managed to launch its virtual leasing agent "Amplify" with Camden Property Trust as well as the launch of H.O.M.E., a non-profit 501(c)(3) dedicated to providing disadvantaged renters with access to safe and healthy housing.
With new funding in the bank, Funnel expressed its excitement over working with RET Ventures – an industry-backed early stage venture fund focused on helping build cutting-edge "rent tech." The firm has backed the likes of measurabl and turbotenant and saw the exit of IoT-based SmartRent going public through a merger with Fifth Wall Acquisition.
Tuesday's round represents one of the VC firm's largest investments to date.
According to John Helm, Partner at RET, the firm's conversations with strategic investors have increasingly shown the need for a more streamlined leasing process that puts the prospective resident in control. Helm claims renters are looking for self-touring, omni-channel communications and online leasing so that an apartment can be leased at any hour of the day at the renter's convenience. This trend, Helm noted, was likely driven by the pandemic.
"In this environment, Funnel has become one of the most valuable proptech tools, sought by both clients and tech partners because of its location at the top of the sales funnel," Helm added.
Additional strategic investment was provided by RET Ventures Limited Partners MAA, Essex and Cortland.
To learn more about Renter Management Software and what this means for renters and property management companies, book a demo here.
——
About Funnel
Funnel's renter-centric solutions revolutionize the antiquated process of finding a home into an enjoyable experience. We believe all renters deserve a seamless, simple and personalized journey. We provide leasing and communication tools that are intuitive and obliterate repetitive tasks — driving more efficient leasing. Join us as we help leading property management teams create tomorrow's rental experience at funnelleasing.com.
Media Contact
Alex Howe, Vice President of Marketing
alex.howe@funnelleasing.com