Funnel Pride Kicks Off Pride Month 2022
A statement from Kyle Lysher, Founder and President of Funnel Pride, to start campaign with SAGE USA for the remainder of 2022, and celebrate LGBTQIA2+ individuals.  
At Funnel, we know that the world is enriched by every person's expression of individuality and will do whatever we can to make our employees feel safe and accepted. Funnel embraces diversity, celebrates all of its employees, and never shies away from an uncomfortable conversation. We believe in a world where every person is free to live their life openly and without fear of repercussions. We know that when you allow people to be themselves, it opens up viewpoints that would otherwise go unexplored, stagnating innovation and growth in the process. 
As members of the LGBTQIA2+ community know, Pride isn't a time of the year, but a state of being. Funnel is committed to living and breathing Pride for the other 11 months of the year. Some of the ways we take pride in our employees include offering healthcare that covers Gender Affirming Care, partnering with DE&I consultants, and empowering our employees to have a voice in policies that may impact them. 
I started at Funnel in September 2021, and in my third week, I had my first meeting with Tyler.  The conversation quickly shifted away from the minutiae of why the role I accepted attracted me to Funnel, and to the development of its culture. After leaving a stifling corporate environment that didn't celebrate the diversity of its employees enough, I made it clear to Tyler that a healthy culture is a keystone for a business. The support from Tyler, and the other leaders, would be vital in helping Funnel be as Kick-A** as possible. As the conversation continued, it became obvious that Tyler understood this and he encouraged me to do whatever I wanted to help define what it means to be a part of Funnel.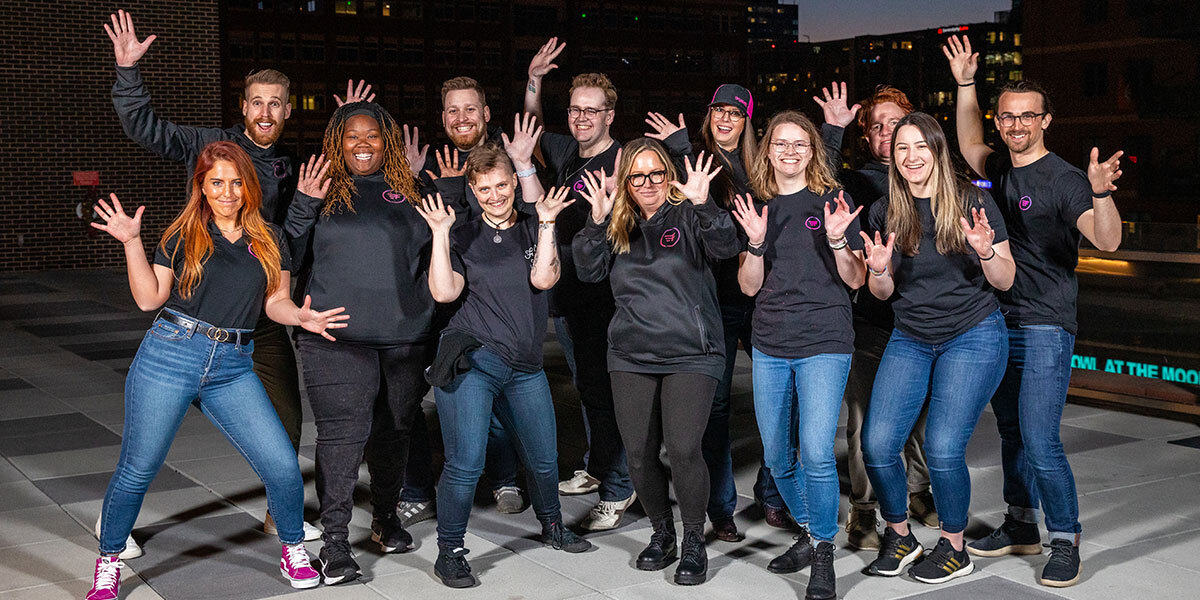 In November, I held the first meeting of Funnel Pride, and I was overjoyed at the reception from our rapidly growing company.  Just over a third of the company attended, which included a number of department leaders, and it helped show that I wasn't the only one invested in nurturing an inclusive culture. The next few months felt like I'd knocked over the first domino in a long line that seemed like it was moving faster than I could. I wouldn't trade the experience for anything. 
At Funnel, we don't do things so that we can say we did them. They're intended to create impact and have a purpose. Funnel Pride is no exception. I want every member to feel like we're making an impact in their day-to-day lives at Funnel. I want every person at Funnel to feel like we're making an impact in the world and to be proud to work here. 
Giving back is one way Funnel Pride has decided to make an impact in the world while aligning with Funnel's own desire to give back, via our 501(c)(3) H.OM.E. I'm excited to announce that we'll be running a donation campaign for Sage USA, the country's largest and oldest organization dedicated to improving the lives of LGBTQIA2+ elders. The drive will last for the remainder of 2022, and as a cherry on top, Tyler has pledged that Funnel Leasing would match the funds raised throughout the campaign. 
I'm certainly not alone in this effort, nor any of the other efforts being undertaken by Funnel Pride. I want to express my gratitude to everyone at Funnel that has supported me, Funnel Pride, and all of the other initiatives going on to make Funnel the most Kick-A** place to work. 
-Kyle